Green Bank Design Pays Dividends
53pam7>7/8/2009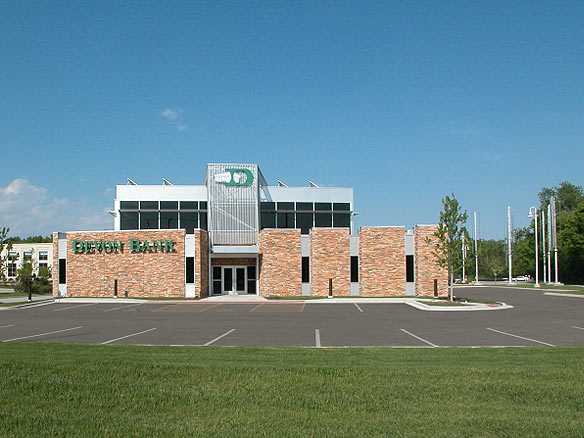 The architectural design of Devon Bank's new Wheeling branch, designed by Cordogan Clark & Associates, shows that quality green design pays dividends. Soon after opening, this branch bank met its investment goals for the entire year. In addition to highlighting this bank's superior customer service, this also demonstrates the attraction of better quality sustainable architecture. The unique and innovative design, with its roof mounted solar collectors and field of spinning wind turbines, provide instant attraction for passersby. Inside, the high ceilinged lobby with sunscreened clerestory windows provides abundant natural light and provides a space where people want to be and do business.

In addition to being good for the environment, unique green design advertises itself. But the real dividends are yet to come. This energy efficient design is an investment that yields long term savings in mechanical and electrical costs for heating, cooling, and lighting. The unique design with its generous natural light, high ceilinged ventilation, and use of benign hypoallergenic materials, will also reduce employee turnover, which in turn saves additional operating costs. "In the Devon Bank project, the money saving measures can be quantified in electrical costs savings in on-site solar and wind power, but also in the un-quantifiable savings in improved employee health, well-being, and employee retention," says Michael Brown, AIA, Project Architect with Cordogan Clark & Associates.

Devon Bank's Wheeling branch is a leading example of sustainable "green" commercial architecture design. The project is designed to meet Gold LEED certification, and when approved will be the first branch bank in the state of Illinois to be LEED registered. The Wheeling project is part of the bank's initiative toward green design. This will "minimize our carbon footprint by conserving energy," says Devon Bank Vice President Dan Loundy, and "create health benefits affecting the environment, our communities and the people we service."

This state of the art branch banking facility has many innovative sustainable features. The building's exterior incorporates a Kawneer curtain wall system with sun shading devices, providing improved daylighting while reducing glare. These sunscreens also reduce solar heat gain, thus saving cooling costs. The green roof employs a white PVC membrane, with 1,200 square foot planted surface for passive cooling, insulation, and storm water retention. The roof also features thirty-six solar panels that can produce up to 10kW of energy. Adjacent to the building a field of six 35' high wind spires generates additional wind energy. The building uses energy efficient HVAC, plumbing, and lighting systems. Additional green amenities include bicycle parking, preferred parking for alternative fueled vehicles, and recycling. The site itself is a Brownfield, which required installing a liquid membrane beneath the building. This project was completed by ATMI Design Build in October 2008.


Back to News Index