First-of-Its-Kind Supportive-Housing Development in the Northwest Suburbs: Myers Place in Mt. Prospect Provides New Home for Special Needs Residents
33pam7>7/13/2013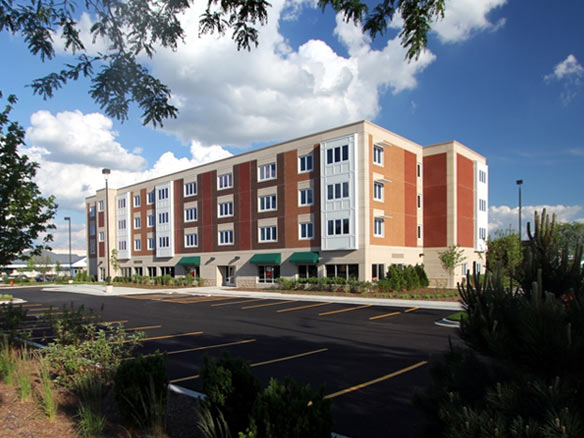 Myers Place is an innovative, supportive, affordable housing project in Mt. Prospect, Illinois. Residents with mental disabilities who are able to live independently, all originally from Chicago's Northwest Suburbs, have found a new permanent residence here. This $13.2 million four-story development is a mixed-use 39-unit apartment complex featuring a variety of community spaces indoors and outdoors. The first floor blends commercial development and ancillary residential spaces, including offices for the property manager and case managers; computer center; laundry; and community rooms.

Its 39 units are arranged as 18 studio units and 21 one-bedroom apartments. All units are spacious, with generous natural light and ventilation. Other key design features are: onsite management; 24-hour security; extensive ground landscaping; separate private storage areas for each resident; and bicycle storage. The building is easily accessible to public transit. Parks, services, and shopping are nearby. Myers Place provides supportive housing for military veterans as well as affordable housing for people living with disabilities or facing homelessness.

"I've been working in affordable housing for 17 years now and this is the first time that I really feel like the State has had a breakthrough in terms of its approach to housing of people with disabilities," said Mary Kenney, executive director of the Illinois Housing Development Authority.

Kenney credited Governor Quinn's decision to close a few mental facilities in the State with inspiring an effort to get people with disabilities back into their communities. "It's healthier for the people and it's less expensive for the State," she said. "Clearly, it's a better option than institutions."

Myer's Place has been designed for energy efficiency and to meet LEED standards. Its design employs a vertical ground-source geothermal heat pump system to heat and cool residential units and this system will demonstrate a 30% reduction from typical energy use. Exterior walls are designed for maximum thermal efficiency and include sunscreens on south- and west-facing windows to reduce heating and cooling demand. Other sustainable features include locally sourced materials, recycled material content and drought-tolerant landscaping.

The architecture of Myer's Place uses a lively blend of cast stone and face brick, a variety of brick colors, and details that emphasize the different interior uses of the building and to create a sense of place. Its design reinforces the Myer's Place mission to provide access to high-quality affordable housing for people with mental or physical disabilities as they move towards recovery or self-sufficiency. The project is a partnership between Daveri Development Group, LLC and the Kenneth Young Center, and was designed by Cordogan Clark & Associates, Architects and Engineers. Kenneth Young Center is a community based, not-for-profit mental health agency that "helps people feel good, do better and find solutions". It has provided assessments, counselling, psychiatry, recovery and support services for Elk Grove and Schaumburg Townships for over 40 years.

"Myers Place has been a dream envisioned by so many in our community for many years, and we are fortunate that it was the right project for the right place in Mount Prospect," said Mayor Juracek. "The housing needs and services that Myers Place provides are critical to our special-needs population, and we appreciate all the community partners for being there every step of the way to celebrate this milestone."


Back to News Index