Marmion Academy Completes New Phase of a Multi-Phase Campus Expansion: Fall, 2011
05pam9>9/9/2011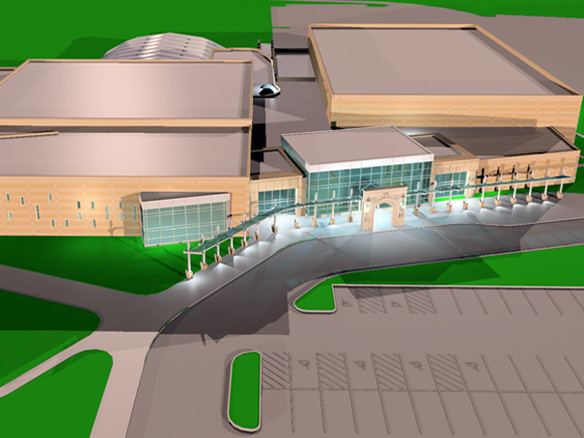 When school resumed at Marmion Academy this fall, students were greeted by a new building on campus: the Regole Field House. This 36,000 s.f. precast concrete and glass structure contains three practice basketball courts, a running track, sprint track, golf / baseball practice cages, long jump pit and pole vault, with overlapping tennis courts, volleyball courts, and a competition-oriented basketball and volleyball court. Fall sports received a much-needed lift now that basketball practices can occur simultaneously, allowing much more flexibility in scheduling.

"Some teams were having to start practice before dawn, and others practiced past 9:00 p.m. to finish their workouts," states Joe Chivari, Director of Athletics for Marmion Academy. "We had some tired students by the end of the day. With the field house, practices can be scheduled so student-athletes get home in time to get in a good night of homework, rest for the next day, and have time with their families. Actually, the Field House - and a beautiful one at that - will increase the quality of the Marmion experience in many ways."

The next phase of construction includes an attached expansion to the south of the Regole Field House. This will house a dedicated Music Hall, a centralized Welcome Center with concessions and library, and a replica gateway arch, reminiscent of the traditional arch at the Academy's original building in downtown Aurora.


Back to News Index